NEWS: The Majestic Theater Association, a Non-Profit Corporation, now has an Executive Director! For bookings, rentals or other information, contact Executive Director Lisa Gillespie at lisamarie@majestictheater.net
---
Where Friends and Family Gather

In all of our lives a community theater has been part of the backdrop of our memories. Hardly a week passes that someone does not relay a story about the time they spent at the Capitol Theater. Whether it is watching a movie with friends and family, or going to see a local band or performance, we all have memories of quality time at the community theater that has enriched our lives.

The Majestic Theater is proud to continue the tradition of making memories for all to enjoy. Our small and quaint venue hosts live music, movies, stage productions, children's shows and much more. Reopened in 2006 the Majestic has been working hard to develop a strong and dynamic schedule, hosting over 50 events each year!

In order to continue the work of creating new memories that our family and friends will cherish for years to come, we hope that you will consider becoming a member of the Theater.

I hope we can count on your support!

Majestic Theater


---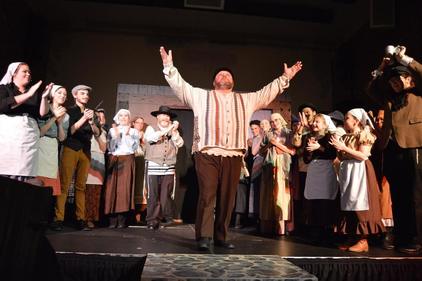 Perform at the Theater
Thank you for your interest in the Majestic Theater.
The Majestic Theater is located in downtown Pottsville PA a quaint rural Pennsylvanian community with a population of 15,000 residents.
We are always seeking new ideas and groups to perform in our 224 seat facility.
There is a non-refundable $100 fee that covers front of house operations and basic tech. Our organization pays performers 50% of net ticket proceeds.
As a small theater we have a 16x16 foot stage, basic theater lighting, a basic PA system, overhead projector and a screen suitable for presentations or movies. We recommend touring musical groups consider providing their own sound system. Our theater has no backstage area or dressing rooms.
If this arrangement is amenable to your group and you would be interested in playing the Majestic please contact us at (570)628-4647 or email Executive Director Lisa Gillespie at
lisamarie@majestictheater.net
---
---

Rent the Theater
The Majestic Theater is a great venue for you next party or event. Some of the types of uses include:
Business Seminars
Informational Presentations
Theatrical Productions
Fundraiser
Movie Nights
Graduation Events
Birthday and Anniversary parties

Weddings

Rentals are $225 for three hours, $75 per hour after that. The cost includes cleaning and technician to operate sound, lights and projector. All rentals must be free entry events. For questions regarding renting this facility please call 570-628-4647, or email our Executive Director at
lisamarie@majestictheater.net
---
---
Support the Theater at various Membership Levels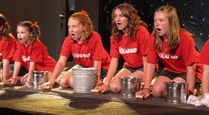 Friend of the Majestic
$25.00—$99.00
(Student rate—18 and under—$15.00)
· 10% off advance ticket purchases (maximum of 10 tickets)


---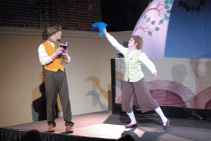 Family of the Majestic
$100.00—$499.00
· 50% off advance ticket purchases (maximum of 10 tickets)
· Tax Deduction


---
Magical Memories Sponsor / Member
$500.00—Up
· Name Listing in Theater Lobby, in Programs 50% off advance group ticket purchases (minimum of 10 tickets)
· Friend membership for all employees
· Tax Deduction


---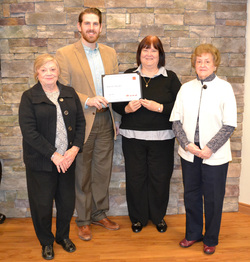 Thank You Wells Fargo
The Majestic Theater thanks Wells Fargo for their contribution of $1,000. In this photo from left to right
Doris M Kauffman
, Andrew Umphrey of Wells Fargo,
Vanessa M. Mihoda
Past President of the Majestic Theater and Naomi Ost Treasurer of the Majestic Theater.
Thank you for your support!
---