Now that the theater can be open at full capacity, join us for these live performances!
We do suggest wearing masks, but they are not required.
Tickets for all our upcoming shows can be purchased at https://www.showtix4u.com.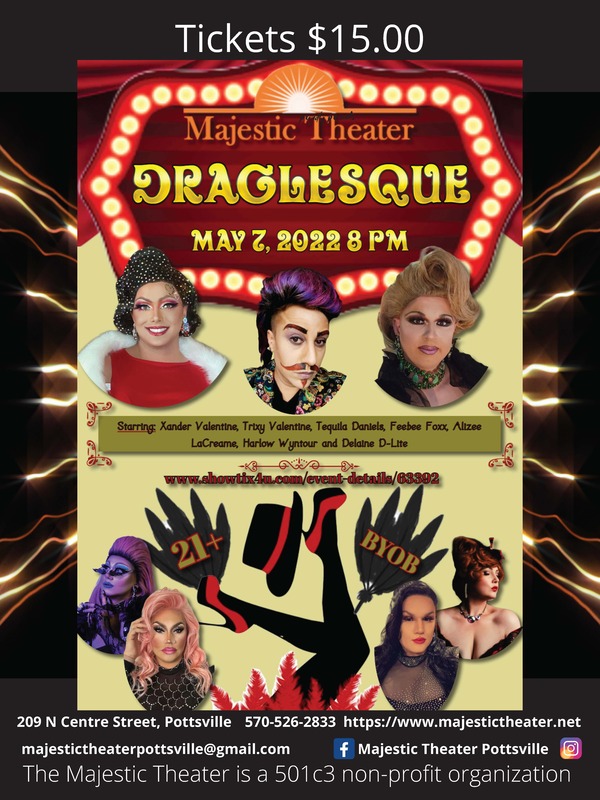 Grab your friends, and BYOB to this fun, fantastic, and fierce performance by some of the best Kings and Queens in the area.

Must be 21 or over.

https://www.showtix4u.com/event-details/63392


---
---
---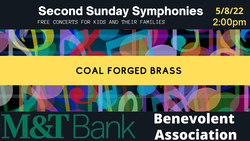 Sponsored by M&T Bank and The Benevolent Association of Pottsville, Second Sunday Symphonies are free concerts for children and families with an eye towards giving them the opportunity to experience classic instrumental music, or modern music performed in a classical style. Different instruments and musicians will be featured monthly to provide a variety of sounds for children to experience.
Upcoming performances include: May 8 - Coal Forged Brass, June 12 - The Music Man pit orchestra.

---
---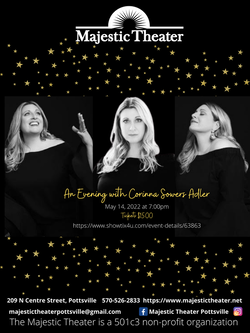 Originally from Schuylkill County, PA, Corinna Sowers Adler has been nominated for the special Excellence in Theatre Education Tony Award every year since it's inception in 2015 and made her solo New York Cabaret Debut in 2010 at the Laurie Beechman Theater in "Stories…A Cabaret". Since then, Corinna has been in high demand, performing solo shows in NYC at the Triad, the legendary Duplex Cabaret, Feinstein's at Loews Regency, Metropolitan Room, Feinstein's/54 BELOW, The Green Room 42, and the majestic Appel Room at Jazz at Lincoln Center where she debuted the concert series "Music Over Manhattan". Corinna was honored to make her Lincoln Center debut as a featured singer on The 24th Annual Cabaret Convention held at Jazz at Lincoln Center presented by The Mabel Mercer Foundation and has appeared several times on the convention since then.
She has performed her concert entitled "Corinna Sowers Adler in: Something Beautiful" around the US and in The Appel Room at Jazz at Lincoln Center to rave reviews and will be bringing the show back to NYC on June 11th at 7pm at the Laurie Beechman Theater.
In December of 2011, Corinna began the monthly series, "Music at the Mansion", which was nominated for a 2012 MAC award and has continued for the past decade. Corinna hosts the series and was nominated for the 2012 and 2014 BroadwayWorld Cabaret Awards in the "Best Female Vocalist" and "Best Host of a Variety Show" categories and the 2020 MAC awards for Best Female Vocalist. She and her husband, Nicholas Adler also created and produced the series "Cabaret on the Hudson" in the Irvington Town Hall theatre in Irvington, NY and "NiCori Presents" which produces Cabaret shows with NiCori's Arts Partners around the United States as well as the "New Jersey Cabaret Festival" which celebrates performers with a connection to the Garden State.
Corinna is Founding Artistic Director of NiCori Studios & Productions dedicated to bringing Theatre and Vocal Arts Education programing and performance to the next generation of the American Songbook.
NiCori: Educate. Inspire. Entertain.

---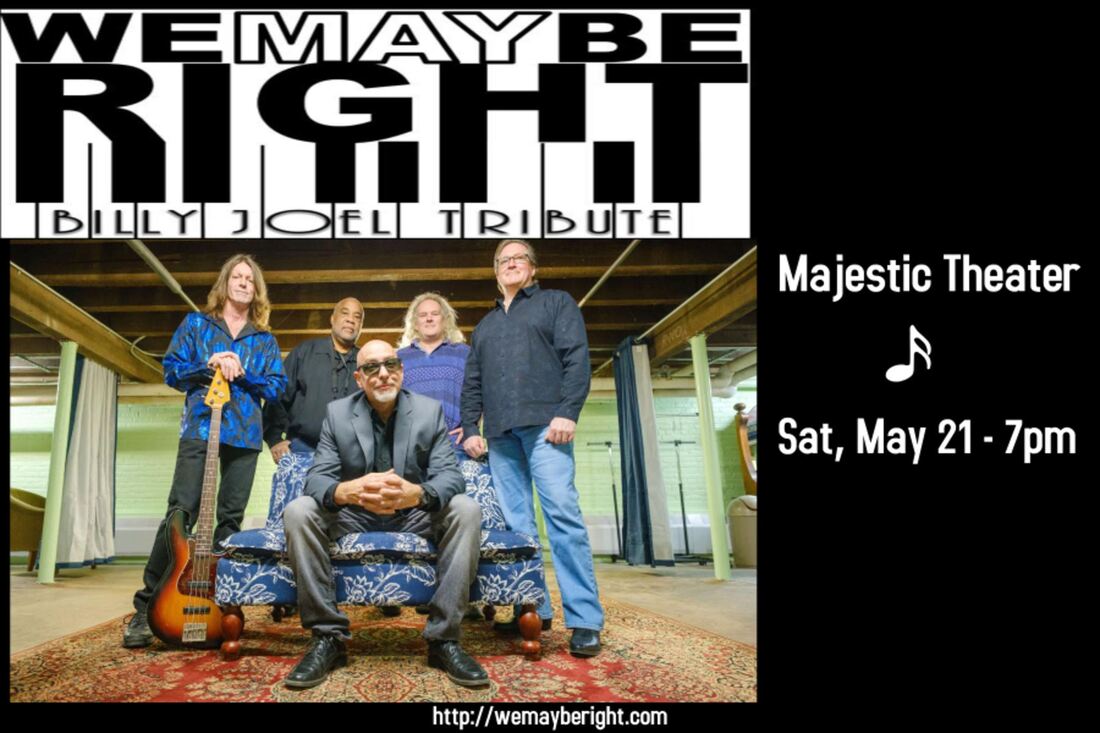 https://www.showtix4u.com/event-details/63439
Get your reserved seating tickets now for the premier Billy Joel Tribute Band in the area! We May Be Right makes a return appearance to the Majestic on May 21st, playing your most loved tunes from one of the most prolific musicians of our time. This show is bound to be a sell out, so do not wait. Tickets are $20.00 in advance, and $25.00 at the door, if available.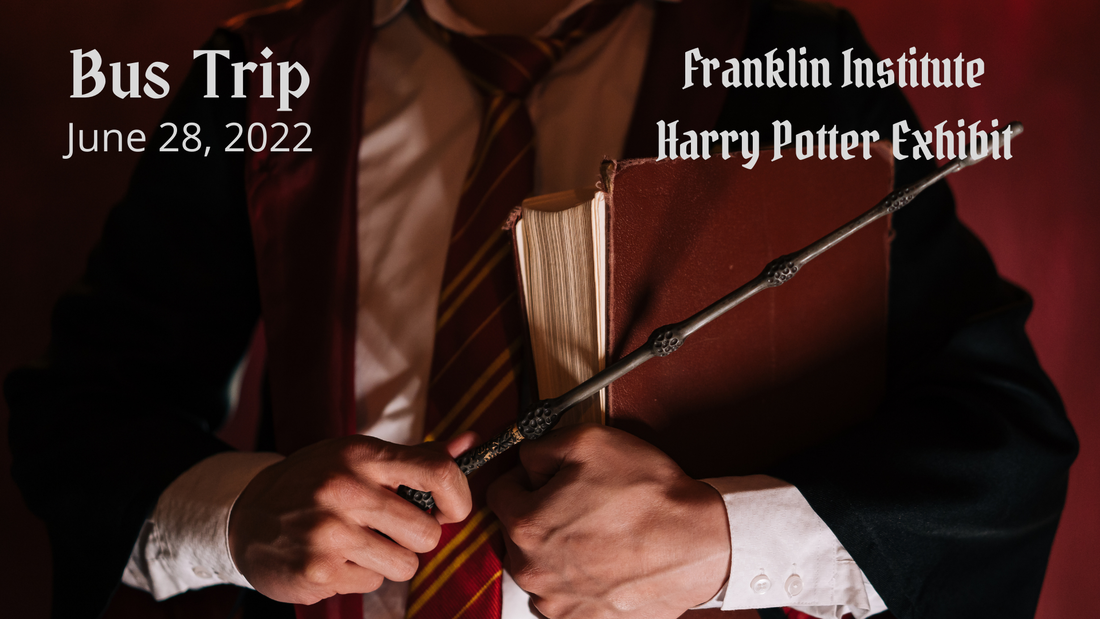 Road trip! We are taking an R&J bus to Philadelphia to the Franklin Institute to see the Harry Potter Exhibit. Date is June 28. We will leave the Giant parking lot in Cressona at 8:30, and return at 6pm. Tickets are $75.00, and include transportation and admission to the museum and exhibit. Seating is limited!
Contact Lisa at majestictheaterpottsville@gmail.com to reserve your seat.
Or stop by the theater on Thursday or Friday from 11am-3pm to purchase a ticket.